The Garden is set to be a stage of music and fun for the Beggars Fair 2022
Free
Photographic Exhibition
We are pleased to host the next exhibition from Romsey View Finders 8-17 July
Free

Later this month Songs and Scones is back
Tickets
Coming Soon Artist in Residence August 2022
Visit regularly for news of our upcoming events.
Past Events:
October 2019 Romsey Story Telling Festival
King John's House took part in this festival with a full programme of storytelling spanning history, from the Vikings Tales to the telling of a life in the world of the early automobiles, we were enchanted and entertained with words from many eras
July 2019 Deeds of Arms
- a visit from this Eighteenth Century Naval Re-enactment Group
Vikings Invade King John's House
Temperatures soared at King John's House on Tuesday 3 July when history students from St Edward's School, Melchet Court, shared their knowledge of Viking weaponry and battle techniques with Year 3 pupils from Romsey Abbey School. On arrival, the Year 3 children were welcomed to King John's House, which had been transformed into a Viking Long House, by Stephen Whelan and his small team of boys from St. Edward's. In true Viking fashion the St. Edward's team soon put Romsey Abbey pupils through their military paces with sword, shield and axe. They learnt to respond to Anglo-Saxon drill commands and create a strong and effective shield wall. Romsey Abbey pupils added to their good knowledge through some thoughtful questioning guided by their new Viking friends! The specially constructed 'Viking Long House' centred around the central hearth. Here hands on exhibits based on the gentler side of Viking domestic life could be found; Viking dress, typical Viking food and drinking horns and fire making kit provided all that was needed for basic survival. Vikings spent the long winter months feasting and storytelling and so the children enjoyed a gruesome saga about the antics of Thor given by Judy Gregory.  When the children return from their summer holidays, the Vikings will be their history topic for Year 4.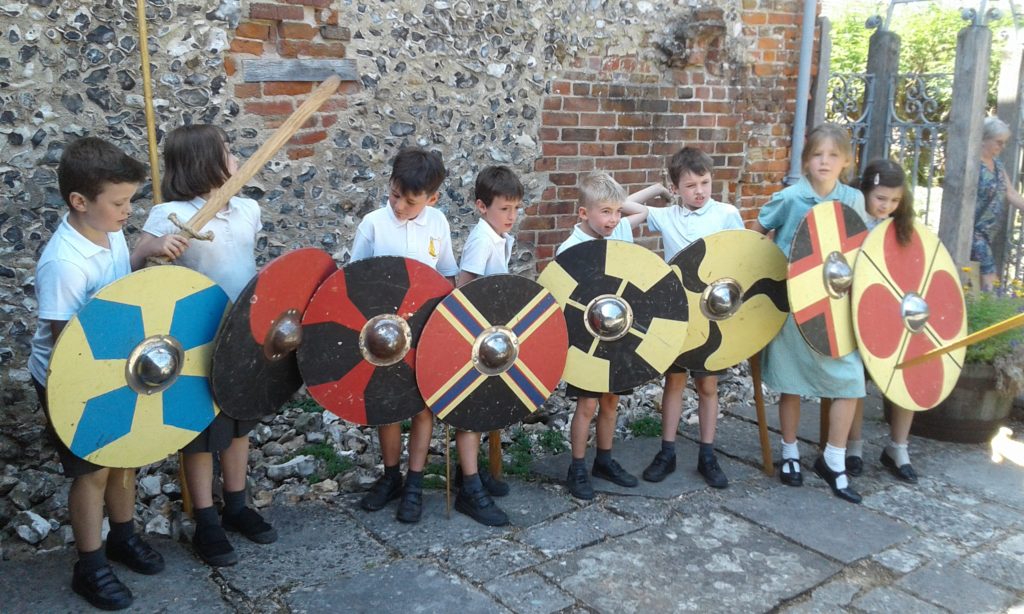 Season Tickets
Gold Season Ticket to include all normal talks: £20
Lifetime Ticket: £150
Attend talks and exhibitions all year round with one of our season tickets. Ask a member of the front of house team for more information on your next visit, or email us at deputymanagerkjh@aol.com.
To see what's going on in 2022, check the calendar below or download the  2022 programme which comes out each quarter.