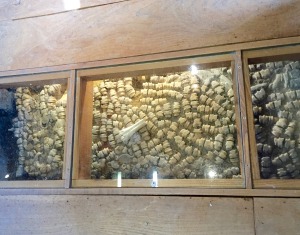 A post medieval feature of house construction was a bone floor created from the knucklebones of sheep and, in rare cases, cattle and horses.
Although these types of floors were widespread for a very short period between the late 17th and early 18th Century, not many examples have been uncovered.
The floors were created by embedding animal bones into the ground surface. Evidence from other sites give us an idea of how these unusual floors were created. Animal bones were "halved and embedded, broad end upwards, in fine gravel, and when fixed in position, a mixture of thin lime and finer gravel appears to have been floated over the whole to give solidity and keep the surface light in colour"1.  Bone floors were often seen as a decorative feature and had the added advantage of being durable and could sustain considerable wear and tear.
The bone floor in King John House is a unique example and so far the only one uncovered in Romsey. It is possible that the bones were acquired from the local tanneries, of which there were many in the town. It is not clear if the construction of the bone floor was a decorative feature or served a purely functional use.
Notes
1. Divers, D., Killock, D. and Armitage, P 2002 Post-medieval development at 8 Tyers Gate, Bermondsey London Archaeologist Winter 2002