Coming Soon
July
Tuesday 3 the Medieval Hall will become a Viking Long House
Saturday 7 – Sunday 16 Romsey View Finders 2018 Exhibition Free Admission
Tuesday 17 – Wednesday 18 Young Arts Challenge Exhibition Free Admission
Wednesday 18 3.45 Braishfield Ukele Band and Rum's Eg Singers Concert
Saturday 21 7-10pm The Teenage Jane Austen – a light supper and entertainment by 2Time Theatre
August
10.30am
12.00pm
2.30pm
3.00pm
No booking required, come and enjoy
Tavern Yard Tales
Agincourt Archers 11-12 August
Try your hand at archery, find out about medieval life throughout the weekend
Medieval Supper with members of the Free Company of Aquitaine Friday 10 August


Open Art Exhibition 2017
19th August –  2nd September 2017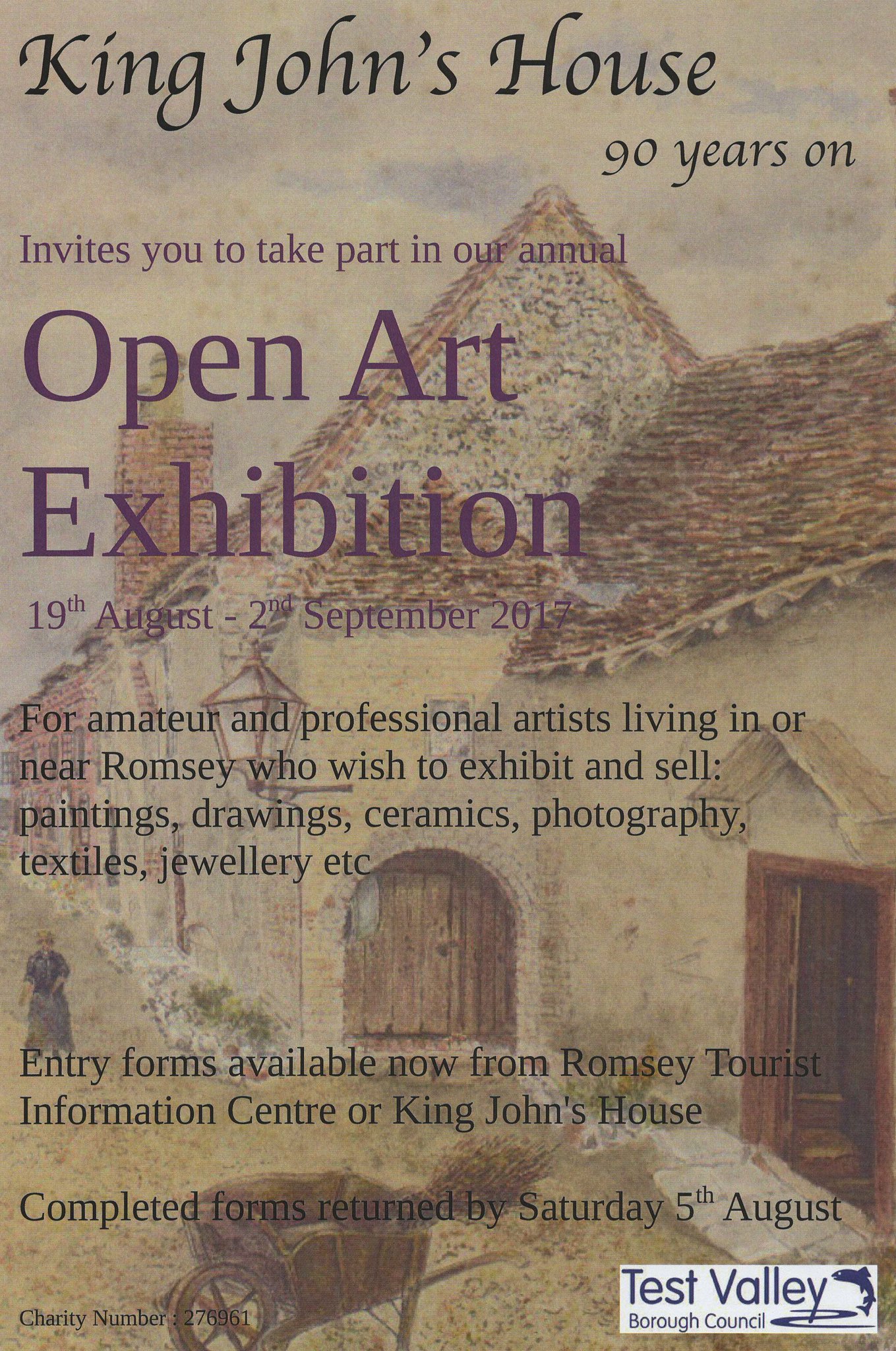 For amateur or professional artists living in or near Romsey who would like to exhibit and sell: drawings, paintings, ceramics, photography, sculpture, textiles, jewellery, wood etc.
Application forms available now from Romsey Tourist Information Centre or King John's House.
Completed entry forms must be submitted by Saturday 5th August. See the links below for the entry form and criteria for the competition.
Exploring Anglo Saxon Romsey – Family fun Day
Saturday 11th February  11am – 2pm
11th February
King John's House Museum, Romsey Abbey and Trench 1 Archaeology invite you to an exploration of different aspects of Anglo-Saxon life
Come to King John's House to
Dig for Saxon artefacts
Excavate a poo!
Reconstruct a Saxon face
Hear a story around the fire (12 noon and 2.00pm)
Cook a Saxon snack (12.30pm and 2.30pm)
See Saxon weapons
Weave a bracelet
Meet a real Anglo-Saxon
Learn about Saxon language
See LTVAS latest exhibition
Design your own shield
Make Saxon jewellery
Cost: Free with normal admission (ie Annual Family ticket to the museum is £9)
Visit Romsey Abbey to
Explore the Saxon secrets of the church using a trail sheet
And hear a smelly Saxon story (meet in the church at 11am or 1pm)
(Entrance to the church is entirely free though donations are welcomed)
Regular Events:

Knit & Knatter Club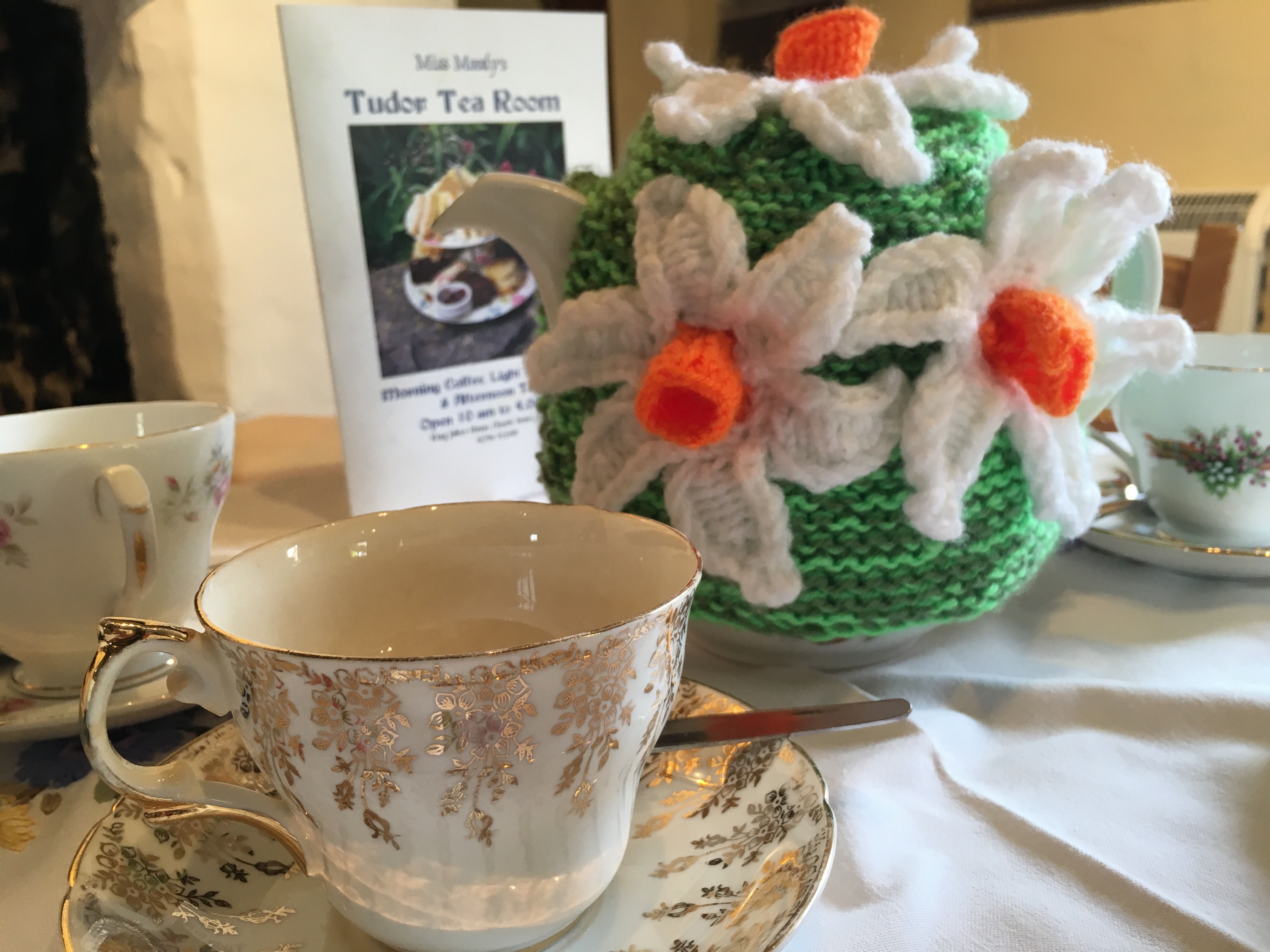 When: Every Thursday, 1.30pm to 3.30pm.
Cost: £3.00
Join us in Miss Moody's Tudor Tea Room every Thursday for a knit and knatter – price includes a cup of tea and slice of homemade cake. Bring all your knitted creations!
Monthly Talks
When: First Wednesday of the month, 10.30am and 2.30pm
Cost: £3.00 / Free for King John's House volunteers
For more information please visit the monthly talks page of our website.
Season Tickets
Gold Season Ticket to include all normal talks: £15
Annual Family Ticket: £9
Lifetime Membership: £30
Attend talks and exhibitions all year round with one of our season tickets. Ask a member of the front of house team for more information on your next visit, or email us at annerhc@aol.com.
To see what's going on in 2018, check the calendar below or download the full 2018 programme.